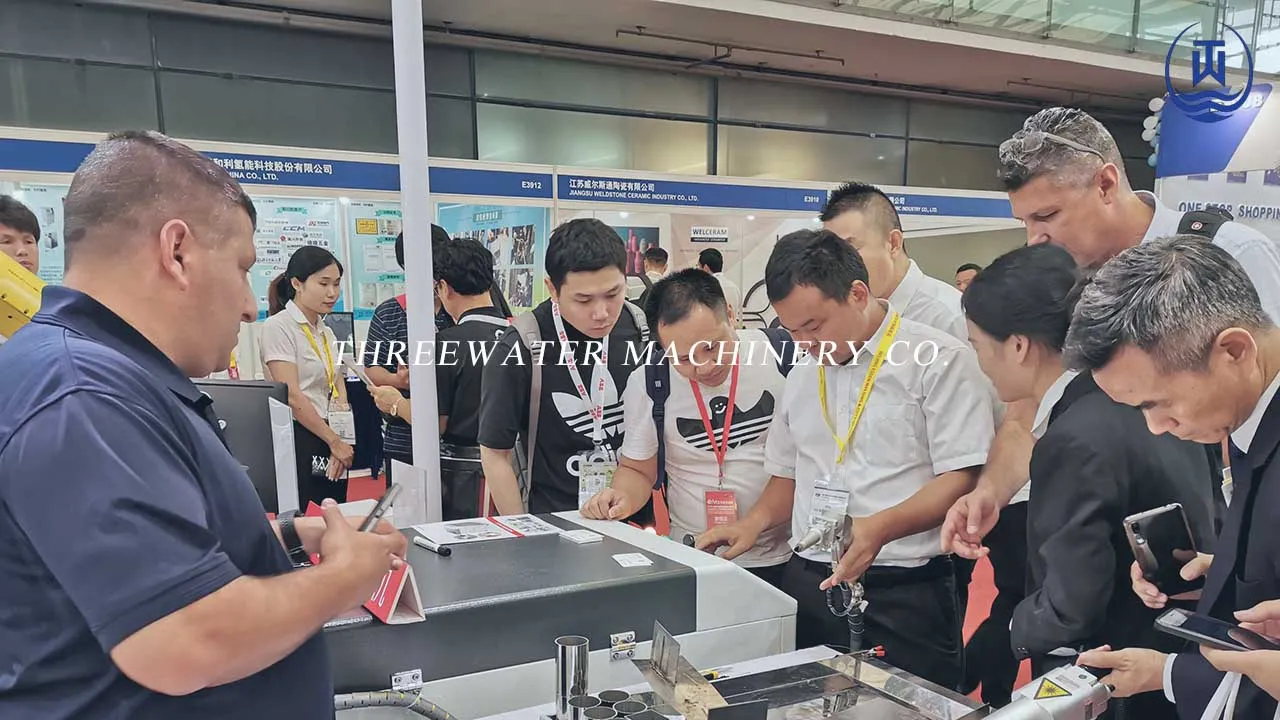 Beijing Essen Welding and Cutting Exhibition BEW attracts tens of thousands of professionals from domestic and overseas welding industry dealers, agents, research institutions, government departments, management and procurement departments, etc. every year.
The exhibition provides an opportunity for exhibitors to demonstrate their strength in front of their competitors. Through well-trained booth staff, active pre-show and during-show promotions, and fascinating booth design, the competitiveness of exhibiting companies can become radiant. Moreover, visitors to the exhibition will also use this opportunity to compare various exhibitors. Therefore, the exhibition is a good opportunity for exhibitors to show their image and strength.
In the future, the company will comprehensively promote industrial development and upgrading, and build the world's leading wire processing equipment.
FAQ
1.What does your factory supply?
We supply complete flux cored wire production line, cooper coated wire production line, welding electrodes production line, etc. We also supply related auxiliary machinery, machine accessories, and kinds of welding wire.
2.Do you manufacture, sell and export directly?
Yes, we do. We offer competitive price with high quality and excellent after-sale service.
3.Which country have your machine been sold to? (In the alphabetic order)
In the past decades, our machines have been sold to Brazil, British, Canada, Germany, India, Iran, Malaysia, Russia, Turkey, USA etc.
Advantages
1.Advantages of series products. The company independently develops and designs complete production line of kinds of welding wire. Our main products include wire pay-off machine, strip cleaning machine, wire forming machine, wire drawing machine, wire take-up machine, wire rewinding machine, pail packing machine, wire cutting machine, powder mixer, wire-feeding machine, helix powder coating machine, head-tail grinder machine, eccentricity measuring instrument, hydraulic slug presser etc. The product styles are diverse and the series are complete.
2.Customized function. The company specializes in the welding wire equipment industry for 20 years, constantly researching and developing new products, using the latest manufacturing technology, and launching a variety of series of machines, which can be tailored to companies and factories according to the differences in welding wire type and quality in different regions and local conditions. Create products with functions required by customers.
3.New product research and development advantages. The company attaches great importance to product research and development, constantly developing new product styles, adding new product features, and developing series of products. There are new products on the market every quarter, aiming at the needs of different customers. The richer the product line, the more choices consumers have, and the more opportunities for customers to make money.
4.Product technical advantages. The company has set up a professional R&D team to continuously overcome technical difficulties and develop new products every quarter. The product adopts the latest technology, energy saving and environmental protection, and fully automatic computer control. Ensure that the welding products occupy a leading position in the market's research and development technology field, allowing welding wire production companies to grasp the initiative in the market.
About Three Water
Established in 1998, Tianjin Three Water Machinery is a manufacturer and trader specialized in the research, development and production of welding wire production line. We are professional manufacturer of welding material machine specialized in flux cored wire & solid wire plant project consulting and manufacturing, various types of wire drawing machine used in metal products processing and auxiliary machines in wire production. We are specialized in R&D flux cored wire machine, cooper coated wire machine, welding electrode machine and related auxiliary equipment. With novel design, professional manufacturing and rich machine-operation experience, our machines have been widely recognized and highly appreciated by customers from overseas and domestic. The company is located in Tianjin, with convenient transportation access. It is 60km away from Xingang Port, and 90km away from Beijing Airport. All of our products comply with international quality standards and are greatly appreciated in a variety of different markets throughout the world.
This product is very soft, smooth and luxurious, even for the most sensitive skin. So if people like this feeling, they will like it.
Participate in Beijing Essen Welding Exhibitions
Beijing Essen Welding and Cutting Exhibition is one of the most influential welding and cutting exhibitions in the world. It is co-sponsored by the Chinese Mechanical Engineering Society, the German Welding Society, and the German Essen Exhibition Company.